Night Work on the NE 70th St I-5 Overpass to Begin Next Week
UPDATE:  Night work on the NE 70th St I-5 overpass to add new protected bike lanes and a pedestrian lane will begin as soon as Tuesday, August 20.     
To reduce traffic impacts, work is scheduled to take place from 7 PM – 5 AM. Work is expected to take up to 4 days. Traffic on the overpass will be shifted to allow for the work, but NE 70th could be reduced to one lane if necessary. Flaggers will assist motorists and pedestrians through the work zone in that case. The work should not be exceedingly loud; however, some construction noise is expected.
Work installing new curb ramps and an all-way stop at the intersection of 8th Ave NE and NE 70th St is almost complete. Crews will add crosswalks and stop bars during striping. Crews will return later in the year to fix one curb ramp.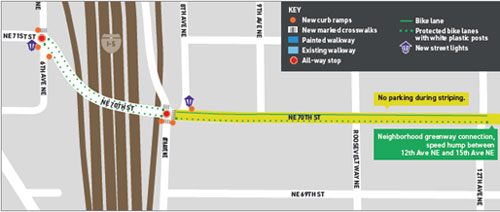 What you need to know:
Construction hours, 7 PM – 5 AM
 Lanes shifted to accommodate work
NE 70th St reduced to one lane with flaggers when necessary
Temporary lane closures
Detoured walking and biking routes
Noise, dust, truck activity, and vibration
Access to I-5 will be maintained during construction

We're committed to keeping you informed during construction. Please share this email with others who might be interested in receiving project information and construction updates.
Peter Kitchen
Outreach Lead
Neighborhood Street Fund Program
(206) 733-9361
www.seattle.gov/transportation/NSFNE70overpass.htm
Comments
comments