It's Milk Carton Derby Time Again at Green Lake!
Join us July 13, in the water or on the shore of Green Lake for the annual Milk Carton Derby!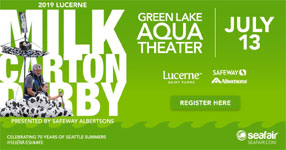 We are thrilled to be guests in your neighborhood!  We hope you will join us on the water as teams compete to race their homemade milk carton boats across Green Lake.
There will also be plenty of vendors and food on the shore!  It's always great fun!
Here are all the details:
WHAT:                  Lucerne Milk Carton Derby
WHERE:               Green Lake Aqua-Theater. See attached location map. DATE(s):   July 13, 2019
TIME(s):               9:00 am – 5:00 pm
WHO:                    Seafair
CONTACT:           Dana Quinn; (352) 792-4120
EVENT DESCRIPTION:
Event hours are from 09:00 am – 5:00 pm on 7/13/2019.
We will be loading in beginning at 09:00 am on 7/12/2019, and will load out until 7:00 pm on 7/13/2018.
We will leave your neighborhood as we found it! Litter and recycling will be handled by Busby Junk Removal.
During the event hours, we expect between 2,000 – 3,300 attendees!
Streets may be closed or have limited vehicle and/or pedestrian access between the hours of from 08:00 am – 12:00 pm on 7/13/2019. See the below map for specifics.
We will have amplified sound during the hours of 10:00 am – 5:00 pm on 7/13/2019

  Outdoor National Anthem and race announcements from 10:00 am – 4:00 pm at the Green Lake Aqua-theater.
We are working closely with the City of Seattle Special Events Committee to minimize the impacts of the event. Our goal is to create an enjoyable and positive experience in your neighborhood.
If you or any of the surrounding residents and businesses have questions or comments about impacts of this event, please email us at:
Dana Quinn, Event Producer                                                            Chris Swenson, Chair
Seafair                                                                                                    City of Seattle – Special Events Office
2200 6th Ave., Suite 400                                                                    PO Box 94708
Seattle, WA 98121                                                                                Seattle, WA 98124
Dana@seafair.com                                                                              chris.swenson@seattle.gov
Comments
comments